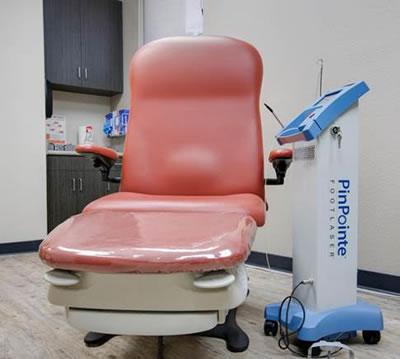 Stop suffering the pain and embarrassment of unsightly nail fungus. PinPointe™ FootLaser® is the easy and convenient procedure that helps turn your discolored and disfigured nails into clearer, healthier looking nails.
This in-office procedure is virtually painless, has minimal side effects, and typically takes only about 30-minutes to complete.
The impact of unsightly nail fungus
Nail fungus is a chronic condition that impacts your quality of life and can even lead to serious health problems for patients with diabetes or immune disorders.
Nail fungus is difficult because the infection is under and inside of the nail, which makes it hard for some products to reach and destroy the infection. Products such as medicated nail polish or oral medications may be associated with side effects or serious drug interactions. Home remedies such as using bleach, vinegar, mouthwash, or household cleaners to resolve the problem are often tried but, ultimately, fail to resolve it.
Talk to your podiatrist
Give your feet something to smile about from toe to toe. Talk to your podiatrist about PinPointe™ FootLaser®. Together you can determine if it's the right procedure for you.